Russian Center in Dresden organized a Project day for high school students
/ Главная / Russkiy Mir Foundation / News /

Russian Center in Dresden organized a Project day for high school students
Russian Center in Dresden organized a Project day for high school students

22.03.2017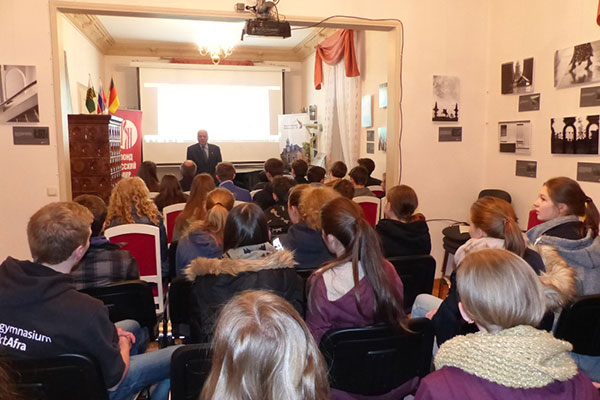 A Project Day campaign for students from Saxon boarding school and for gifted children from gymnasium of St. Afra was organized in the Russian Center of German-Russian Institute of Culture in Dresden. The school follows traditions of the oldest educational institution in Germany, famous for its celebrated graduates: doctor Hahnemann, scientist Helert and poet Lessing. Russian language is taught as the second foreign language in that school. The students visited Russian Center as a part of preparation activities for the trip to Saint Petersburg, the sister city of Dresden.
More than thirty students from 6th to 12th grades together with three Russian language teachers including American Heather Rogers from Ball State University (Indiana) actively participated in the project "Multi-million Russian cities: yesterday, today and tomorrow" launched by the supervisor of the Russian Center Vitaly Kolesnikov and cultural manager Fraya Ebner. Chief executive officer of the German-Russian Institute of Culture and the General Director of the Russian Center Dr. Wolfgang Schälike pronounced an introductory word.
The students took a virtual trip around the largest country in the world, got acquainted with its unique natural, cultural and industrial peculiarities and discovered a comprehensive notion of "Russian World" with help of advanced multimedia capabilities of the Center. The high school students learnt a great deal of interesting facts and could win prizes and souvenirs from Saint Petersburg thanks to the educational quiz based on the movie of Russkiy Mir Foundation. Saxon children who became friends to our Russian Center are invited for an unusual excursion this September in Saint Petersburg. At the invitation of Boris Yeltsin Presidential library's administration, they will attend the Holy of Holies of the unique collection "Rossievedenie" (Russian Studies) where they will be able to peep into boundless archives of the single electronic national library of Russia.
Russkiy Mir
News by subject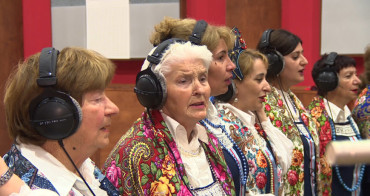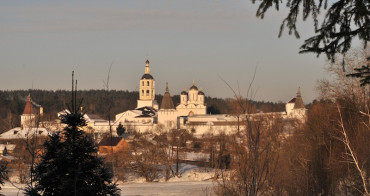 One of the most cozy towns in Russia, a member of the Association of Small Tourist Cities of Russia is located about 100 kilometers from Moscow. Borovsk makes visitors to fall in love with it at the first glance. Beautiful, typical Russian landscapes with river and churches, homey cafes, low-rise buildings and private houses decorated with naive art live under hovering spirit of the theoretical cosmonautics founder Tsiolkovsky.