Chinese students learn about Russian phraseological units
/ Главная / Russkiy Mir Foundation / News /

Chinese students learn about Russian phraseological units
Chinese students learn about Russian phraseological units

16.09.2021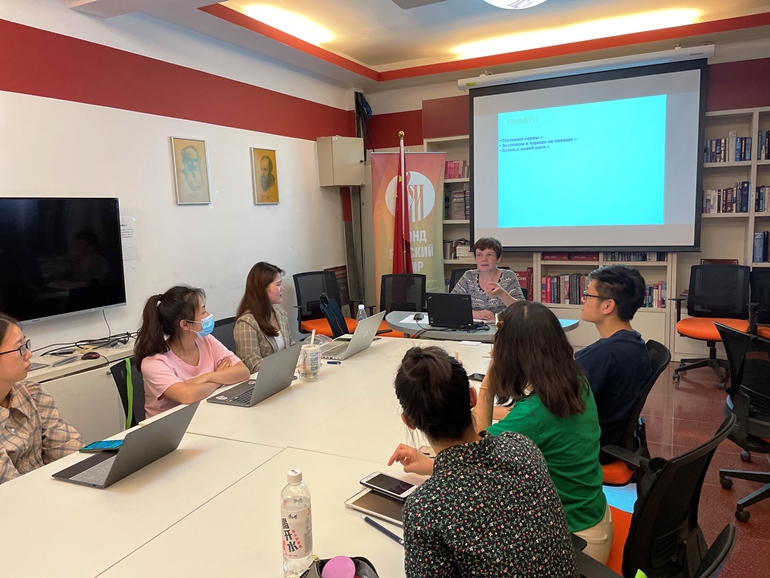 Russian philologist Elena Markasova gave a lecture on the topic "General characteristics of Russian phraseological units" at the Russian Cultural Center in Beijing on September 16. Mrs Markasova was invited by the Russian Center and the Institute of the Russian Language of the Beijing University of Foreign Languages (PUIE).
The speaker introduced audience to the definition of phraseological units and gave some curious examples with animal names, such as "Like a squirrel in a wheel," "Wet chicken," "Crocodile tears". She has explained that there are a large number of classifications of phraseological units based on various criteria in modern Russian language. 
Elena Markasova is Doctor of Philology, Associate Professor of the Russian Language Department, Faculty of Philology,the St. Petersburg State University. From the new academic semester, she has started working at the Institute of Russian Language PUIA. Elena worked here under the program of the Russkiy Mir Foundation - Professor of the Russian World in 2014.
The lecture was attended by about 20 students, Russian studies postgraduates and the Institute of Russian Language PUIA teachers. Acquaintance with phraseology helps young specialists to better understand Russian culture and learn psychology of Russians.
Zhu Xiangyu, Beijing
News by subject